Ο 01 Jan 2016 – 31 Dec 2016
……………………………………………………………………………………………………………………………………………………….
Indonesian Little Treasures (ILT) is an educational programme that invites pre-schoolers to discover Indonesian heritage and culture through object-based Learning activities in the classroom and at the museum. This innovative approach to heritage education by
the d'Topeng Kingdom Heritage Board in collaboration with Early Childhood Development Agency (ECDA) Under this Programme, participating pre-school will  receive a 'Treasure Trunk' that contains handling objects and archival reprints that reflect  the museum collection for use in the classroom. Pre- school teachers will also be prepared to facilitate Learning conversations and meaningful play in the museum galleries through a two-day training workshop.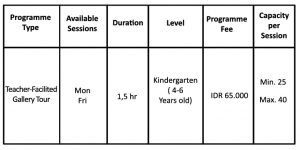 To book ILT learning session, please download the ILT @NMS Booking Form here.
Please download the ILT @NMS Educators Guide here
Pre – schools which wish to participate in the ILT D'Topeng Kingdom Museum's Teachers' Training Workshops for 2016 and 2017, please contact our Education  Officers at guest.dtopengkingdom@gmail.com for more information.